We know a quality product and customer service are sometimes hard to come by in this day and age. We work hard and strive to provide both of these to you and would like to thank our customers that have taken the time to submit these reviews. If you would like to submit your own review, please by all means, do so at the bottom of each product, We would love to hear from you!
EXCELLENT!
I ordered the Outdoor Camping Gas Heater for a gift and it's perfect. The quality is amazing and I would highly recommend this to anyone who does lots of camping!! Thank you so much.
NICE TENT HEATER
GREAT TENT
Product has great craftsmanship shipping was expedient!! Love the rod-less tent !! Who knew about the rod less tent!! Sharing with all my friends and family and encouraging them to purchase their own!!
LOVE IT, PROBABLY BUYING A
Love it, probably buying a second one for the bedside table
AWESOME SURPRISE!
My fiancé tagged me in a post on Instagram saying "need this" referring to the valet. His birthday was the following week so after checking out the website I decided to order the XL valet in ebony (his stuff lying around drives me crazy and this is something he wanted, but was also something I knew I'd love…). When I got it he had no clue what he was going to get when opening the box. He was pleasantly surprised to see the valet and was really happy with it. The quality is amazing and worth every dollar! Awesome birthday surprise because we stopped exchanging gifts a few years ago.
Thanks for a great product!
LOVE IT.
Received my EDC Valet XL today, love it. Quality seems top notch and it looks great in the house.
TWO THUMBS UP!
Great craftsmanship and was exactly what I was looking for I will be telling friends and family to definitely buy as well took a Lil while to get to me I guess due to holidays but well worth the wait!
GREAT
Great product. Just like the picture.
THIS GIFT JUST SURPRISED THE
This gift just surprised the heck out of my boyfriend. The quality of this product, to start, is exquisite, as well as the convenience of upgraded technological advantages. Such as built in charger and spots for regular chargers. The idea in general has everything my guy needs in one place and still keeps the rustic appeal that he loves.
Highly recommend!!
AMAZING COMPANY AND FANTASTIC PRODUCTS
I ordered my husband an  valet dock pro for Christmas and then saw that it said it might arrive after Christmas due to so many orders. I emailed them and let them know that we are
Moving on January 1st and I wanted to make sure it got to the correct address depending on which day it was delivered. They messaged me back the next day and let me know that they would flag my order and get it out ASAP. I didn't expect to receive it before the new year yet alone before Christmas but I did. Thank you so much Wildlifemerch! My husband is going to love it.
MY PRODUCT ARRIVED RIGHT WHEN
My product arrived right when expected and is beautiful and of good quality. Thank you WildlifeMerch! My husband is going to be happy!
HARD TO WAIT?!
So I rushed home to get the package before my husband was to arrive. I'm so excited it's here before Christmas. I bought one for husband & one for son n law! It's going to be hard to wait until Christmas to give it to them! Hahahaha
Thank you & Merry Christmas. I will spread the word about this product & company.
Solar Panel Camping Phone Charger 
It arrived in a timely manner and is a nice piece of solar equipment for charging on the go. I will buy another in the future for other family members. Holds the larger Cell phones and fits all of our phones. No matter what size. And It's very compact to carry in my bag. Thank you Widlifemerch
 VALET doc pro
Ordered this for my husband as a Christmas gift. Got it today in the mail & I am extremely happy with the product I received! I am very excited to give him such a great gift from a great company! Thank you again! So much appreciated! And have a Merry Christmas & a very Happy New Year!
-Ashley P. from Charleston SC
CHRISTMAS GIFT
I'm extremely excited for my husband to open his Christmas gift this year! It definitely came on time and I love how they send me a email to notify me of it. By the way the material is amazing!! Great product
PERFECT
I ordered one of Wildlifemerch durable cell phone case for my boyfriend for Christmas. They were very informative along the way and even responded to me with a personal email regarding my orders status. When it arrived it was exactly what I was expecting. Absolutely perfect!
EVEN BETTER IN PERSON
I saw a picture of the Valet doc pro on Facebook and scoured the comments section to see where I could buy one because I knew it would be a useful tool for my home. My husband comes home from work and throws all the things from his pocket or clipped to his duty belt onto the dresser. There have been times our dogs knocked his handcuff key or his badge off the dresser into the floor which led to a stressful morning helping him look for where these items ended up. This product is beautiful and will help keep us organized.
LOVE IT!
My boyfriend absolutely loves his edc valet! I got him the Apple Watch Edition for our anniversary and it was the perfect gift. Not only was it excellent quality but it arrived much sooner than I expected. Thank you so much!
OUTSTANDING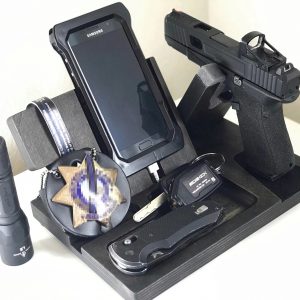 I'd been looking for years trying to find a good way to keep all my EDC gear organized while having my firearm easily accessible. I finally found the Valet doc pro, and the guys at Widlifemerch were able to make it in a custom size to fit my monstrosity of a phone case. I am more than impressed, and I'm proud to support an American small business as fine as the good people at Widlifmerch!
AMAZING!
I can't thank you enough!! This was a gift for my boyfriend and it arrived fast and he LOVES it!! It is absolutely perfect!! I will definitely be telling everyone I know about your great work and amazing customer service! Thank you again!!!
AMAZING STORE!
Ordered as a gift and it arrived sooner than I expected. Quick shipping and delivery, amazing quality and great products! Couldn't be any happier with my order.
AWESOME
Excellent job. I placed an order and received it in a week. Product was as described. I'm a retired Police Officer and wished I had this when I was working, so instead, I bought it for my Son who is also a Police Officer. Thank you. Keep up the good work. These are going to make GREAT Christmas Presents to all my friends who are still Cops and haven't retired yet.
5 STAR
My son loves it!! I have been look for one for years. Now my husband wants one too
Love it thanks again
HOMERUN!
I was searching for the perfect gift for my guy on his birthday. I saw your site on Instagram and after viewing the EDC charging trays, I knew he had to have one. He loved it as much as I did! I also emailed a question & the response I received was prompt & helpful. Thank you so much for the quality of work you do & for helping me to make his birthday great!!
YOU GUYS ARE AWESOME!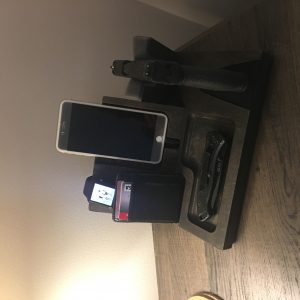 I came across your products on Facebook and was amazed at how great of an idea these were. It works perfect for my husband! I was even more impressed with the customer service. Great customer service is hard to find now days. I was in a time crunch and was worried I wouldn't get the package in time before we moved. I emailed you guys before ordering and you guys promised to make sure it got to me on time even with your heavy volume of orders. And you guys kept that promise. You estimated me getting it around the 20th or 22nd of this month and we got it on the 18th. Definitely recommend you guys to everyone. Usually longer shipping times upset people when companies are getting a large volume of orders but great customer service definitely out weighs the little longer shipping! Thank you guys so much!
SIMPLY AMAZING!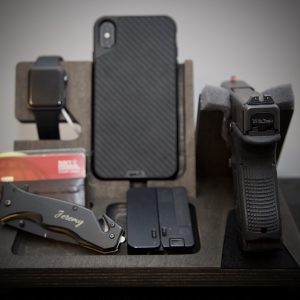 I cannot tell you enough about how amazing this product is! It is beautifully designed and wonderfully made. You can tell the team puts their soul into this product when they are making it and I can't thank them enough! The wireless charging is perfect and it fits my Glock 30 perfectly! Thank you guys for creating such an amazing product! Keep up the good work and creating more things for us to enjoy!
IMPECCABLE
I ordered the valet doc pro as a surprise for my husband. I was so excited to receive the package because I knew how much he was going to love it! The craftsmanship is impeccable and the shipping was fast. As I was sure he would, my husband is loving his new valet, it is so convenient having all of his stuff in one place! I would highly suggest this product to everyone!
THANKS
I got this for my husband for our one year wedding anniversary. He absolutely loves it! It came in about 3 days. That's including the weekend. Highly recommend this product!
PURCHASED THE Spotting Telescope SV28 Zoom 50/60/70mm

Purchased the Spotting Telescope SV28 Zoom 50/60/70mm
for my boyfriend's birthday. Arrived in under a week and my boyfriend loves it!
AWESOME STORE
Received my package quicker than expected.
LOVE
I'm very happy with my Cookware Set Great quality. Also the customer service is fantastic and I received my order quickly.
I JUST HAD TO SHARE
I just had to share how amazed I was when I received my Valet doc pro. They shipped it right away and I couldn't be more happier with how it looks! Wonderful gift idea, yet, now I'm looking into one for me. Thank you for the great gift and fast shipping!
GREAT HIKING BAG!
I ordered the Durable Hiking Camping Backpack
for my boyfriend for his birthday. He absolutely loved it!!!